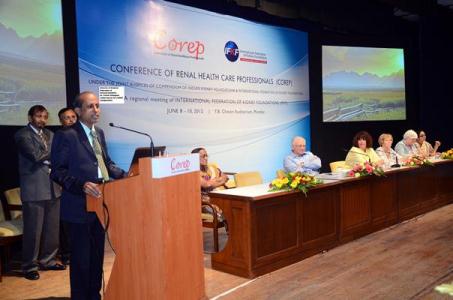 The 2nd Regional Meeting of IFKF this year has been very successful. It was held in Mumbai between 8th & 10th of June. There were a total of 650 people, who attended the meeting, out of which 525 were paid delegates & rest their students of social sciences, diet & nutrition & nurses & technicians. Their respective college Principles/Directors had sent them on demand & COREP admitted them free of charge. There were total 85 faculty members from all these groups, who gave very interesting practical talks.  The present of overseas faculty members:
Dr. Joel Kopple
Marianne Vennegoor
Geraldine Biddle
Teri Browne & their enthusiastic participation
made the interaction very fruitfully. The Director of Medical Education – "Dr. Pravin Shringare", 'The Principal College of Nursing' – SNDT University -"Mrs.  Vasudha Kamble" & 'President of Indian Dietetic Association' – "Mrs. Jagmeet Madan", were all present, representing the respective bodies.