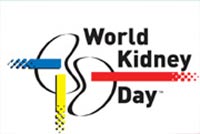 A joint success in 2014… Thank you!
Thanks to all your collective efforts, World Kidney Day 2014 was a tremendous success! In all corners of the world your involvement was a key to the success of the campaign. With more than 540 events in 86 countries, a widely-published scientific editorial, the inspiring success of the glass of water idea and our lively presence on social media, we had a powerful impact with our awareness-raising effort.
We are very grateful for the central role you have all played in this achievement… Thank you so much!
Some exciting times ahead… The next World Kidney Day will be celebrated on March 12.
Mark your calendars!
This edition marks the 10th anniversary of the campaign, and celebrations will culminate with the World Congress of Nephrology (WCN) to be held on March 13-17 in Cape Town (South Africa). These are not-to-be-missed opportunities to make some noise around WKD, and more than ever we count on your support to drive the campaign in your communities and make it even better than in 2014.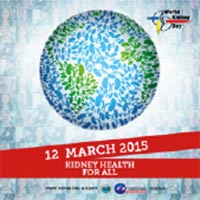 Kidney Health for All is our theme this year. We are not all equal with regard to kidney disease and access to treatment. Some communities in both higher and lower income countries are at greater risk than others because of their ethnic origin, socioeconomic status and/or where they live. Taking steps to live a healthy lifestyle clearly helps to reduce risk, and early detection and treatment can slow or prevent the progression of CKD, and reduce the increased incidence of associated cardiovascular disease.
This year World Kidney Day needs your support to spread this message, encourage prevention, and bring this issue to the attention of government, policy makers as well as the general public.
Become a WKD Champion!
In order to make the campaign even more impactful, speak of one voice on global and local scales, and overcome some language and cultural obstacles and sensitivities, we are looking to interact more with local organizations and individuals.
If you are willing to actively dedicate some time and commitment to the campaign, don't hesitate to contact Agnese, agnese@worldkidneyday.org, to find out more details about what this all entails.

For any additional detail about this year's campaign, contact the World Kidney Day secretariat at info@worldkidneyday.org.
Sincerely,
The World Kidney Day Team
Sophie Dupuis – Campaign Manager
Agnese Ruggiero – Campaign Coordinator
Rik Bollaert – Campaign Funding