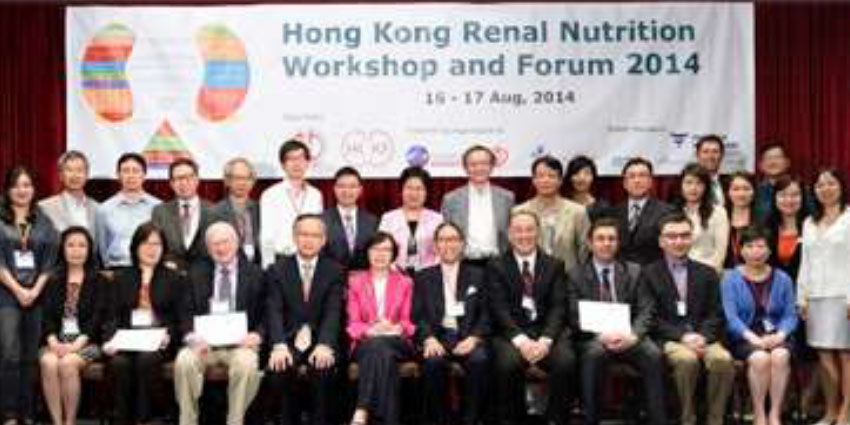 Hong Kong Renal Nutrition Workshop & Forum 2014
The event was hosted by Hong Kong Kidney Foundation and Hong Kong Society of Nephrology, supported by the Hospital Authority, Hong Kong, Hong Kong Dietitians Association and Hong Kong Association of Renal Nurses and co-sponsored by International Federation of Kidney Foundation.
The aim was to increase the awareness and interest of the renal healthcare professionals and dietitians in Hong Kong, on the importance of renal nutrition as part of the comprehensive patient care of patients with kidney failure.
A workshop and two forums were held to cover a wide spectrum of topics, from basics to practical issues. Three world renowned experts – Professor Joel Kopple (US), Professor Alp Ikizler (US) and Dr. Maria Chan (Australia) were invited to share their expertise in renal nutrition. They were joined by local speakers – Dr. Siu-Fai LUI, Chairman, Hong Kong Kidney Foundation, Dr. Samuel FUNG, Chairman, Hong Kong Society of Nephrology, Dr. Angela WANG, Ms. Cherry LAW and Ms. Hazel CHOI, Dietitians and Ms. Eva HO, Nurse Consultant (Renal Care), Ms. Wendy Ma (Vice-Chairperson, Hong Kong Dietitians Association and Ms. Sandra Lo (Cluster Coordinator Dietitics, Hospital Authority).