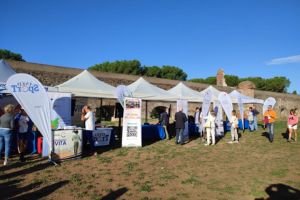 "Archeo Fit Walking" to prevent kidney disease:
600 people in Rome for the walk at the Parco degli Acquedotti organized by the Italian Kidney Foundation.
The event took place at the Parco degli Acquedotti in Rome on 26 September with the aim of raising awareness among the population about kidney diseases and organ donation. The event received notable participation: over 600 people took part in the walk guided by professional archaeologists, Nordic walking experts and motivational coaches among the imposing vestiges of ancient Rome in one of the green lungs of the city. Although kidney disease is very frequent, with an incidence rate in Italy of around 10%, it is unknown to many: in fact, it is estimated that 7 out of 10 Italians have never had a nephrological screening and few people know that in these cases the reference specialist is the Nephrologist. Precisely for this reason, on the occasion of the event an area called "Health Village" was set up where participants were able to meet doctors and specialists who offered screening and provided information, as well as patient associations. Several experts in the sector gave their contribution on issues related to CKD, including Professor Loreto Gesualdo, President of the Italian Federation of Medical Scientific Societies (FISM), Professor Luca De Nicola, incoming president of the Italian Society of Nephrology (SIN), Professor Paolo Menè, President of the Nephrology Specialization Schools, Professor Mariano Feccia, President of the Regional Transplant Center and Professor Roberto Palumbo, representative of the nephrology network of the Lazio Region. The event was also attended by local authorities represented by Riccardo Sbordoni, Councilor for Sport and Culture of Municipality 7 and Francesca Milito, General Director of ASL Roma 3. "Thanks to the dedication and commitment of all those who collaborated and participated we were able raise awareness among the community on the importance of preventing kidney diseases, while promoting culture and sport" declared Professor Massimo Morosetti, President of the Italian Kidney Foundation.